GRADE 9 CANDIDATES PAPERS
Pushing the most able to secure the top marks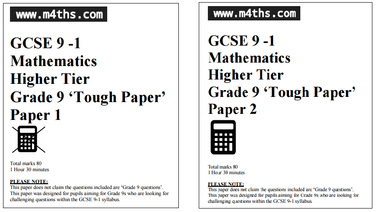 These papers have been written to challenge the most able pupils who are aiming from grade 9s on the new GCSE Maths 9-1 spec from summer 2017.
I don't claim the questions are 'Grade 9 Questions' but the more able student aiming for Grade 9 should be aiming to form logical answers to the questions.
The papers are free to download and can be used freely in any school or college to help students but not used in any form to make money or appear on social media.
The answers can be obtained below.
| | |
| --- | --- |
| Paper 1 Non Calculator | Paper 2 Calculator |
Solutions
Solutions are in video form only with full worked answers. Each goes through the solution step by step. Please feel free to use and distribute the papers for free.
The cost of the video worked solutions in £7.99 and can be purchased using the PayPal button below. You will receive a PDF with the video links in attached to your PayPal receipt. The email will be from mrsteveblades at gmail. PLEASE PLEASE Check your spam/junk folder.

The personalised Full Version will be sent to you from the email mrsteveblades (at) gmail/com as a receipt for your PayPal payment and will arrive with you within 24 hours of purchase. PLEASE PLEASE CHECK YOUR SPAM FOLDER! Please check the email address you use for PayPal is valid and you can access it. Please check your junk box if you have not received the book within 24 hours of purchase. Email me if you still don't have it! All books are sent within 12-24 hours. Please place the name & email you want on the license in the PayPal comments. If one is not provided I will just use the name and email from the Paypal account. Any Paypal emails not working will have the book sent on DVD which will take longer to arrive.