LEARN FOUNDATION 9-1 GCSE MATHS IN A WEEK
7 days - 7 videos - 20 hours - Grade 5 in the bag!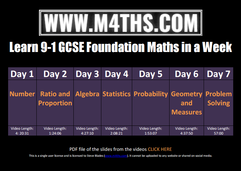 This is the perfect series for the power reviser who wants to get a Grade 5 on the new 9-1 GCSE Foundation Maths exam!
This collection of videos was made for my Year 11s to do some extra revision over 7 days for the new 9-1 Foundation GCSE.
The 7 videos range from
1 hour to 4 and a half hours
long and are designed to be watched daily for last minute revision. For those looking for a more relaxed way of learning then the
9-1 Helpbook
is probably more your thing. The helpbook also includes the full Higher content.
The 6 new areas of the GCSE are covered in 6 different videos followed by a final 'problem solving' style video to end the series. The problem solving aspect of the exam is where many students fall down so I have spent time looking at structuring the more tricky wordy questions.
I have decided to launch the video series to other students and parents as I know how some people are desperate to cram in a week! So, here is the full course (suitable for all exam boards) covered in around 20 hours. This could be the difference between a grade 4 and 5 for many students.
The
first video on number
is free on YouTube and the whole package is priced at £8.50 which includes the other 6 videos.
I decided to charge that figure in order to help keep the site running. I also put 40 hours into this over the holidays when I should have been sleeping so think it's a reasonable price! I feel it represents good value for money given an hour of tutoring from a qualified teacher would be £30. here you get a qualified teacher for about 43p and hour!
This is very much a running commentary type of videos series and "This is how and why we do it" with lot's of common misconceptions discussed and exam style techniques covered. It's very much 'as I go'. We look at basics and then some more challenging questions and ones that students often drop marks on.
This will suit students who need to brush up, revise more in depth or even learn the course from scratch.
Here is a
small sample
(30 of the 200+ pages) of the pdf screenshot used to make the videos!
Just use the
PayPal
link below to purchase your copy and it will be with you within 24 hours. I will reply from the email mrsteveblades (at) gmail dot com on the PayPal receipt. Please check your spam box and if you have not had it within 24 hours then please drop me an email. You will received a personalised ebook copy attached to an email which cannot be shared on social media or uploaded to any form of website or platform.