GCSE MATHS 9-1 HIGHER AND FOUNDATION EBOOK
New FREE GCSE 9-1 Help Book for Higher & Foundation - 52 pages!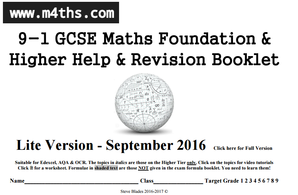 Click here to view the FREE LITE online or download the file below.
Want to purchase FULL VERSION? See Below or CLICK HERE


Download the book

Just save the free lite book above and store it on you PC, iPhone, iPad or any tablet.
You can print it out and share it with friends or colleagues.
They make fantastic workbooks to go on desks in classrooms or as homework books.

What is the Help Book and how can it be used?

This a 52 page help book to be used digitally (iBooks etc) or as a hard copy in classrooms/at home as a quick reference guide & PLC (print folded A3 paper).

All new 9-1 topics are covered in the book and have videos to help students, teachers, TAs, non specialists and parents understand unfamiliar concepts.

The digital version has access to videos teaching the 9-1 content. The free Lite version has all topics in text and a large number on video and can be shared freely.

The Full version has the same written content as the Lite version but provides access to all videos.


Video Trailer

Please Share!

Please share this link with your friends, colleagues, students and children.


BUY THE FULL VERSION OF 9-1 GCSE HELP BOOK
PLEASE READ THE TEXT BELOW CAREFULLY BEFORE PURCHASING. YOU MUST INCLUDE YOUR NAME (OR SCHOOLS NAME) AND EMAIL FOR THE LICENSE.
The personalised Full Version will be sent to you from the email mrsteveblades (at) gmail/com as a receipt for your PayPal payment and will arrive with you within 24 hours of purchase. PLEASE PLEASE CHECK YOUR SPAM FOLDER! Please check the email address you use for PayPal is valid and you can access it. Please check your junk box if you have not received the book within 24 hours of purchase. Please place the name & email you want on the license in the PayPal comments. If one is not provided I will just use the name and email from the Paypal account.
SINGLE USER LICENSE ALLOWS YOU TO:

(1) Watch all the videos for the 9-1 course (as long as Youtube still exists!)
(2) Save a copy of the book on any of your machines.

SINGLE USER LICENSE DOESN'T ALLOW YOU TO:

(1) Share a copy of the book or link with friends.
(2) Upload the document to any website or social media platform.
(3) Download, link or host any of the videos contained in the book.

SCHOOL USER LICENSE ALLOWS YOU TO:

(1) Watch all the videos for the 9-1 course (as long as Youtube still exists)
PLEASE MAKE SURE YOUR SCHOOL NETWORK ALLOWS THE YOUTUBE VIDEOS
(2) Put the Help Book on the schools VLE (To be used in school)
(3) Print as many copies of book as you like to give to students and parents.

SCHOOL USER LICENSE DOESN'T ALLOW YOU TO:

(1) Upload the file to any externally accessed website which the public can download from.
(2) Share a link to the book or videos on an open social media.
PLEASE NOTE:
My videos linked on here have been hosted over many years on YouTube. The videos are at the mercy of YouTube. As long as YouTube runs (which I think will be forever!) the videos will remain live. If you buy a copy and Youtube implodes I cannot take responsibility for this which is why the prices is so cheap!
Some videos have adverts on, again this helps keep this site running. Please bare this in mind before purchasing and check your school VLE accepts them.
There are no refunds on completed purchases when the document has been received.
The worksheets are an added bonus and do not cover all topics and do not have answers to them. (There are loads more free ones on the site!)
You must provide a name and email as each copy is individually watermarked for you. Action will be taken against people sharing without consent.
Why is there a charge for the full version?
Sometime ago I got roped into extending the original help sheet I made for the old GCSE to fit the new GCSE 9-1 Higher and Foundation Spec. One afternoon turned into one week which turned into 250 hours. The intention was only ever to make a few pages! I can't help myself when I get carried away and just start tinkering. 10 pages quickly turned into 52 and I cut it there as it was divisible by 4 (maths geek) and would work well with A3 prints folded in half.
I have decided to charge a small fee and will use that money to maintain the site and any left over will go towards on my second passion which is the welfare of ex racing greyhounds.
I am a qualified, successful Lead Teacher of maths who has spent years teaching GCSE and A Level maths to most and least able with consistently outstanding results. I made the videos primarily for the benefit of my students. They are all done real time and if there are any minor errors they will be very few and far between. I would estimate that there are between 2000 and 5000 minutes of video time. I am not a multi-million dollar company who spends thousands on gadgetry, but I do have the skills to empower through my own little site and videos.
A good, qualified tutor would charge around £30 an hour for tutoring so £10 for the single user seems fair! Heck I paid £10 for a cold burger in London a few weeks ago so it isn't all that bad.