100 HARD GCSE HIGHER GCSE QUESTIONS
Suitable for new 9-1 Spec GCSE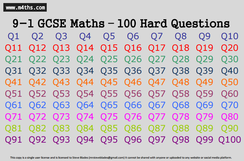 One Tuesday afternoon a couple of years ago I sat in my classroom wondering why strong pupils often went to bits towards then end of a GCSE paper. As teachers we are sometimes guilty of teaching to the exam and I wanted to move away from that and really challenge to pupils to think a bit harder to get through the last couple of nasty questions in their exam. I wanted pupil to leave exam and not end up saying "Ohh I could have done that question!" two minutes later. I decided to write 100 hard question (3 are not mine!) based on GCSE topics and made the question just slightly more involved than what most exam questions would ask.
Why?
Am I sick in the head and enjoy watching my favourite pupils struggle? No of course not! I just wanted them to get stuck into some tough (and dare I say it, enjoyable) maths to prepare them for 'that one question'.
Are the questions going to come up on the exam?
Some may well do (or at least very similar) and some more than likely not
but
they are there to improve thinking skills and designed to get pupils to bring all the GCSE topics they know to the table to find a solution.
I have more playlists on past questions that have come up on my website if you want those instead!
Are they too hard?
Hard is subjective although I would expect most pupils working at the old A* grade and the new Grade 8-9 to have a good old crack at them. I would also like to think A grade/Grade 7-8 students with high aspirations will want to nail them!
Are they suitable for you as a learner?
You make that decision! Everything I throw out on YouTube is free for the consumer and you have to decide if you want to follow the project. There is nobody forcing you! If you like the first few you can find the rest by clocking the link below.
Where are they?
1-8 are linked below and 9-100 are
here
.
Do I want a medal/cookie/something for doing this?
No, I just want to see as many pupils be confident, achieve and enjoy maths. I get huge satisfaction from seeing pupils who are not targeted the top grades smash their exams and walk away with a grade higher than they thought possible.
achieve
Good luck
Steve
The Challenge is on! (Q8-100 are all available here)
1-20

Question 21

Question 22

Question 23

Question 24

Question 25

Question 26

Question 27

Question 28

Question 29

Question 30

Question 31

Question 32

Question 33

Question 34

Question 35

Question 36

Question 37

Question 38

Question 39

Question 40

Question 41

Question 42

Question 43

Question 44

Question 45

Question 46

Question 47

Question 48

Question 49

Question 50

Question 51

Question 52

Question 53

Question 54

Question 55

Question 56

Question 57

Question 58

Question 59

Question 60

Question 61

Question 62

Question 63

Question 64

Question 65

Question 66

Question 67

Question 68

Question 69

Question 70

Question 71

Question 72

Question 73

Question 74

Question 75

Question 76

Question 77

Question 78

Question 79

Question 80

Question 81

Question 82

Question 83

Question 84

Question 85

Question 86

Question 87

Question 88

Question 89

Question 90

Question 91

Question 92

Question 93

Question 94

Question 95

Question 96

Question 97

Question 98

Question 99

Question 100